Check out the creepiest, craziest, tastiest Halloween events in NYC.
It's that time of year when NYC gets their haunted freak on.
1. The Village Halloween Parade
The Village Halloween Parade is NYC's creative and spooky march in Greenwich Village and it's coming back this year on Halloween, Tuesday, October 31.
Thousands of monsters, zombies, ghouls, witches take over the streets.  Whether you march or watch from the sidelines, don't miss this iconic Halloween event, which is celebrating 50 years in 2023!
The Halloween Parade is a 0% tolerance for alcohol event.
2. The Great Jack O'Lantern Blaze
Since 2005, more than 2 million visitors have been delighting in this walk-through experience, where thousands of hand-carved pumpkins in elaborate displays light up the night. Now in two New York locations, in Westchester at Van Cortlandt Manor in Croton-on-Hudson and in Nassau County at Old Bethpage Village Restoration in Old Bethpage, this fun fall festival features larger-than-life installations, along with synchronized lighting, and an all-original soundtrack. It's a magical, family-friendly experience for all ages.
Blaze is uniquely located at two National Historic Landmarks, providing hundreds of thousands of visitors the opportunity to experience these treasured sites and learn about the culture of the region.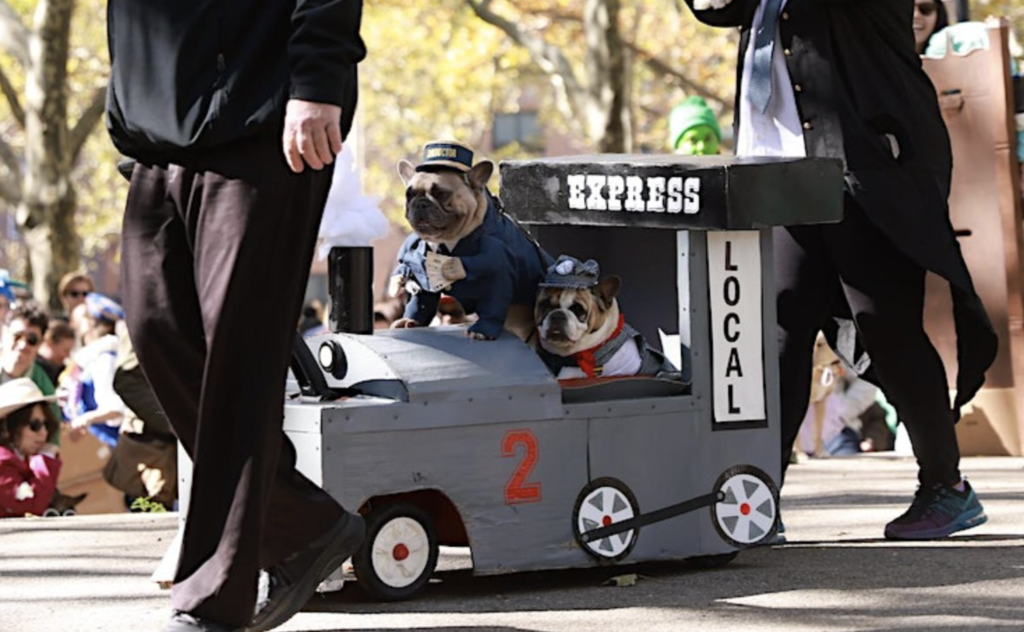 3. Great PUPkin Dog Costume Contest
Now in their 25th year in Fort Greene Park, and sponsored by Fort Greene PUPS, the Great PUPkin is Brooklyn's largest and most outrageous dog costume contest. 
Scads of dogs enter and ruthlessly compete for the coveted Great PUPkin rosettes for the top pups!
And remember, your entry fee is a tax-deductible donation to Fort Greene PUPS, a 501(c)3 nonprofit organization! Your receipt will serve for tax purposes. Thank you for your support!
After preregistering, you will receive a receipt, which you should print or bring on your phone to check in starting at 11:00 a.m. on the day of event.
IMPORTANT: If you do not check in at the registration table located at Monument Plaza (top of stairs) by 11:45 a.m., your entry will be forfeited. Judging of all entrants begins at the bottom of the monument stairs at 12pm sharp!
The PUPkin is FREE to attend – registration is ONLY required if your dog is competing in the contest!
Special Thanks to All Ears Veterinary and support from Bond Vet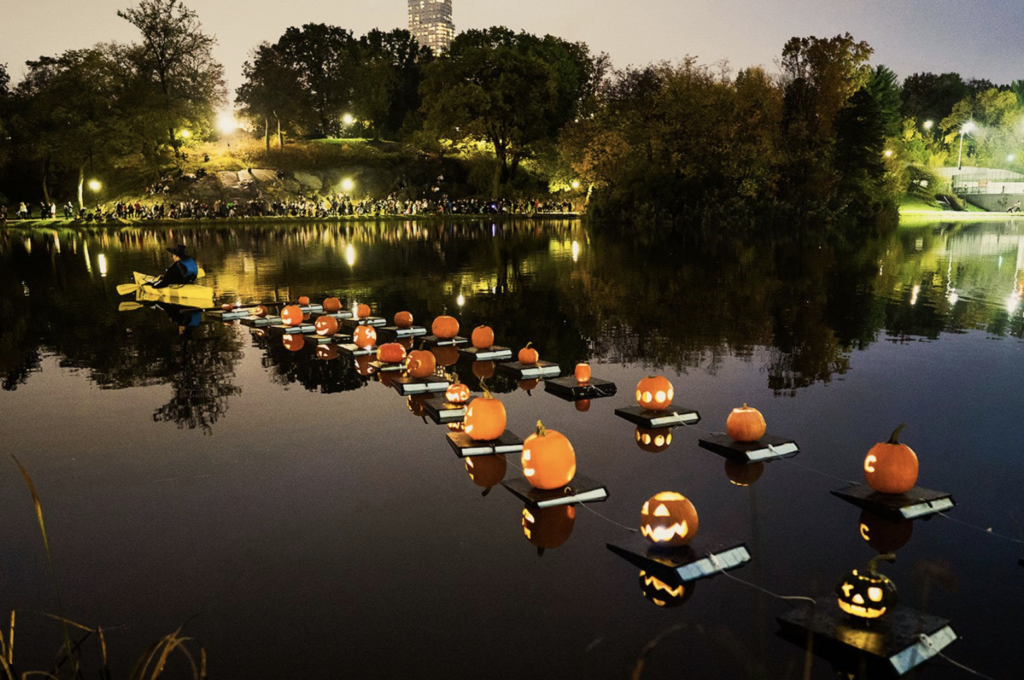 4. Central Park's Halloween Pumpkin Flotilla
Each year, Central Park hosts a Halloween celebration on the Harlem Meer that's perfect for the entire family.
There are a  variety of children's activities, including crafting, storytelling, scavenger hunts, and a spirited Halloween parade.
At twilight, a procession of illuminated jack-o'-lanterns is guided across the Harlem Meer by a whimsical witch or mischievous goblin.
Celebrate Halloween on Thursday, Oct. 26th by watching the Harlem Meer light up with floating pumpkins. Feel free to dress for the occasion! 
If you would like to see your own jack-o'-lantern floating in the parade, improve your chances by entering a pumpkin that is approximately 8 lbs. after its been carved up (include the lid – think the size of a soccer ball) and make sure you don't use any decorations that are unnatural such as paint, glitter, marker, food dye, paper, or plastic. You don't want to pollute the Harlem Meer or harm the wildlife. Candles and lights to illuminate the pumpkins will be provided. 
Stop by the information table between 4:00 and 5:30 at the Charles A. Dana Discovery Plaza with your masterpiece and they will let you know where to drop it off. Space on the float is limited and offered on a first-come, first-served basis. 
You can reclaim your pumpkin at the conclusion of the flotilla at 7:00 PM. Pick-up is at the Harlem Meer Beach near Fifth Ave and E. 108th Street.
This event is FREE and weather permitting.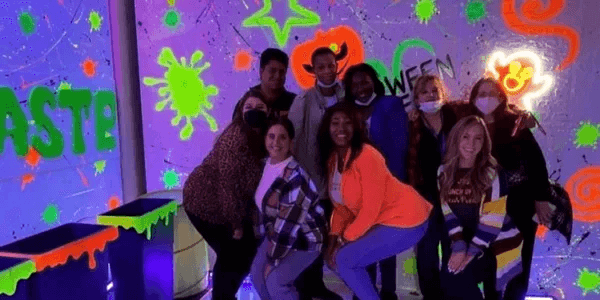 5. Halloween House at The Oculus
Halloween House is a completely immersive, one of a kind Halloween experience where you are transported to an all Halloween world.  Every one of our impeccably detailed, fully realized rooms is a different Halloween theme designed to make every Halloween lover's experience unforgettable.
Visit the #1 ranked Halloween attraction for all ages!  If you love the decor of a haunted house, but don't want the stress of being touched and scared, Halloween House is for you.  And if you do love haunted houses, you'll love Halloween House too!
Halloween lovers unite! Our uniquely themed, fully immersive rooms include the one of a kind "Trick or Treat" Room, the "Glow in the Dark" Room, the Horror Movie Graveyard, our Vampires' Lair, and more!
THE OCULUS 
185 Greenwich St, New York, NY 11006
(Main Level – in the corridor near Sephora)
You can get tickets at the Halloween House website; adult entry costs $40, while tickets for kids and under are set at $35.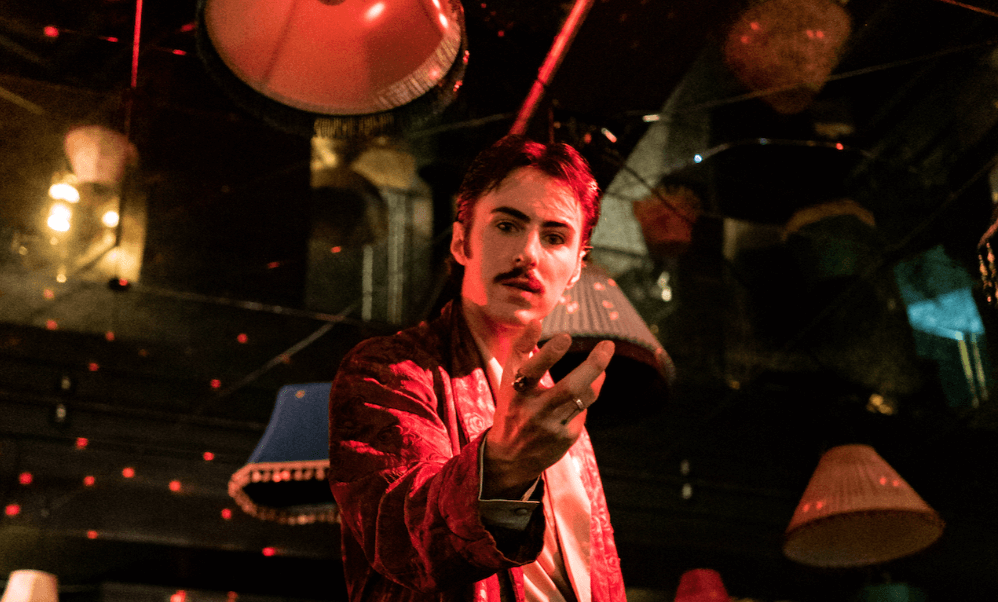 6. Dreams of Dracula: An Immersive Masquerade Experience
Step into the Dracula universe retold as an immersive vampire theatrical play. Walk through the darkness of Castle Dracula, meet The Virgin and the Vampire.

Two floors and four rooms of the 25,000 square foot venue offer a choose-your-own adventure style journey through the intricate details of Bram Stoker's original classic vampire novel.
You may engage with Dark Romantics, Lord Byron, John William Polidori, and Mary Shelley. Exchange a bon mot with Oscar Wilde in their famous salon, or step into the Alchemical Study of Sigmund Freud.
Be warned! Hypnosis, tarot readings, scary tales, darkness, flashing lights, thunder, and lightning will all be a part of this experience. You may be touched by our performers.
Attire Note: Your version of black tie is highly suggested on Friday and Saturday nights, but basic black will always get you in the door. For all other shows, all black attire is required for entrance.
Written and Directed by Jonathan Albert and Nicole Coady. Choreography by Arianne Meneses. Music composed by Dian Shuai.
Please find the digital program here.
The production opens on October 4 and runs through November 11 at Musica NYC in Hell's Kitchen; previews begin September 22. Gothic and Victorian costumes are "very much encouraged," event organizers say. 
Tickets start at $69 and are available for purchase here.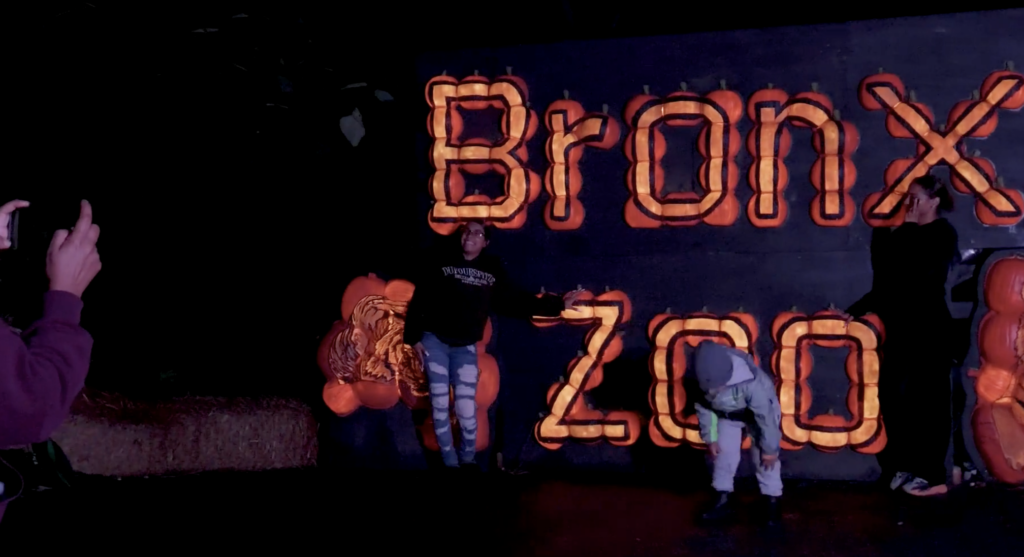 7. Pumpkin Nights at the Bronx Zoo
Bronx Zoo Pumpkin Nights, an ALL NEW nighttime family Halloween event, will take place on select evenings this fall! Follow an animal-themed illuminated jack o'lantern trail and learn about animal behavior after dark, plus enjoy games and treats.
Pumpkin Nights will feature gorgeous scenes of more than 5,000 illuminated pumpkins, together with atmospheric sounds and colored lights, to provide a festive family atmosphere as you follow a half-mile trail to holiday excitement right here in NYC.
Pumpkin Nights will debut on Thursday, September 28 and run Thursdays, Fridays, Saturdays and Sundays through Sunday, October 29 from 6pm to 10pm.
Tickets for Pumpkin Nights range from $26.95-$36.95 for adults; kids' tickets range from $24.95-$26.95 for kids. 
In addition to the new Pumpkin Nights, the Bronx Zoo will continue the tradition of Boo at the Zoo, which will return on Saturdays and Sundays, September 30 through October 29, plus Monday, October 9.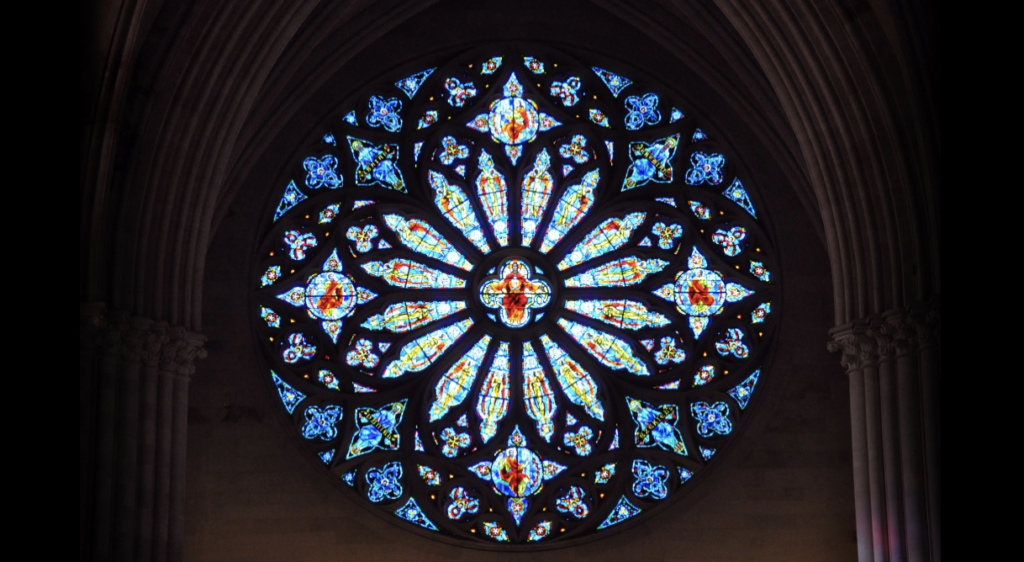 8. Halloween Extravaganza and Procession of the Ghouls
The Cathedral's beloved annual Halloween celebration returns for 2023! 
Following the film screening of The Cabinet of Dr. Caligari with live organ accompaniment, ghouls and goblins from the Mettawee River Theater Company emerge to scare and delight audiences. 
Mark your calendar for an evening of classic thrills, spooky chills, and autumnal spells!
Tickets are now available! 
Two viewings will be offered at 7 and 10 pm for the Halloween Extravaganza, with $40 tickets available on the cathedral's website. 
Also on October 27 and 28, the cathedral's famous Crypt Crawls will make their grand return from 1:30 pm to 2:30 pm and from 3:30 pm to 4:30 pm, guiding visitors down into the rarely-seen depths of the Gothic building. You will hear stories of the entombed and learn the origins of Halloween as a Celtic New Year celebration and later transformation into All Hallows Eve. Grab tickets for the guided tour here.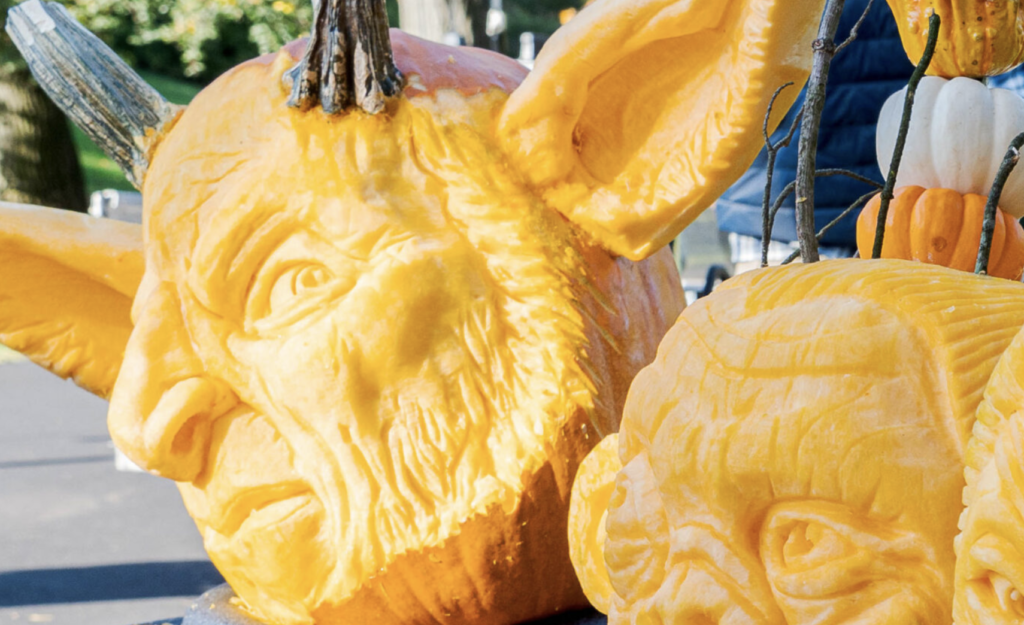 9. NYBG's Fall-O-Ween at the Botanical Garden
Make NYBG your pumpkin headquarters this fall! The tricks and treats of the season come to life with plentiful pumpkins, gourds, and ghouls—and all sorts of fun-filled activities to celebrate this season of frights and foliage! Day or night, there's something for everyone as we offer special weekends of pumpkin parades and pumpkin carving face-offs, as well as the return of our popular beer sampling weekend, Bales & Ales! Evening events give kids (and adults!) the chance to show off their Halloween costumes in New York City's most beautiful landscape, while you can savor the flavors of the season with artisan demos, food and drink talks, and so much more as autumn in the Bronx brings vibrant color to your backyard.
While you're here, don't miss your opportunity to capture picture-perfect fall photos at the Reflecting Pool and on the adjacent lawn, where you'll find hundreds of pumpkins and gourds of all shapes, sizes, and colors!
Tix and more info here – https://www.nybg.org/event/fall-o-ween/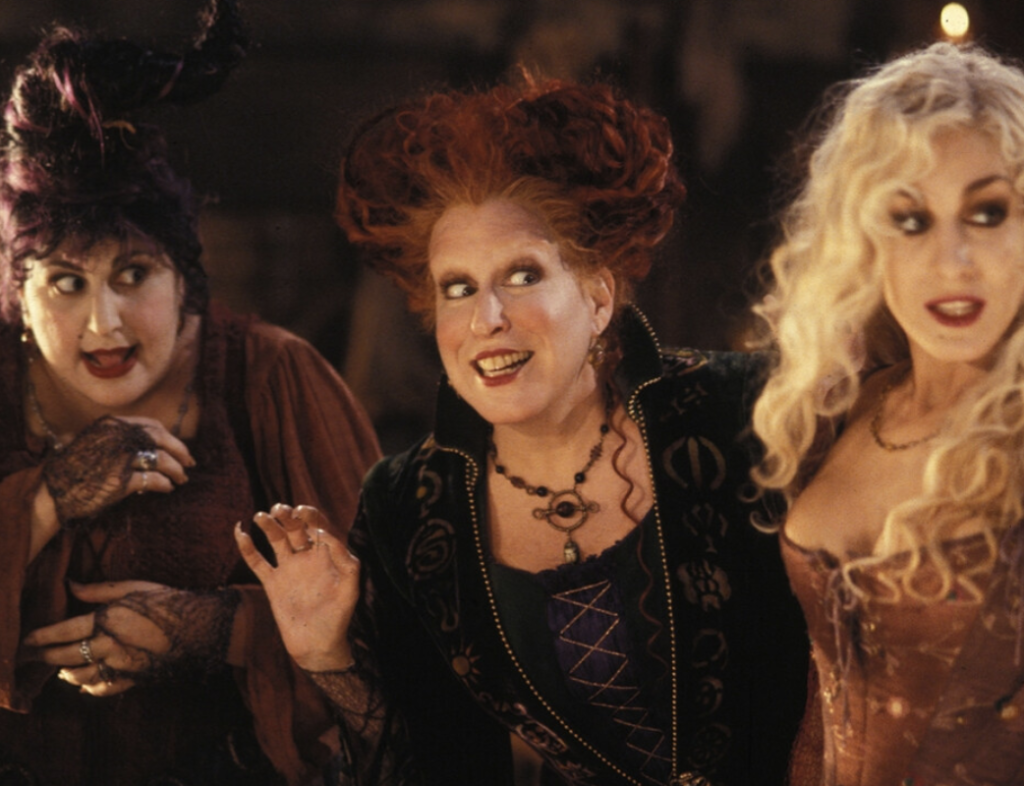 10. Rooftop Cinema Club Halloween movies
Rooftop Cinema Club is screening rooftop movies this fall with a packed slate of films running all the way through October 31. 
Sip wine and eat vegan popcorn while watching classics like When Harry Met Sally, The Addams Family, Hocus Pocus and lots more this autumn. Tickets are on sale here.
October's lineup include scary screenings such as Rosemary's Baby, Paranormal, The Exorcist, The Shining, American Psycho and other cult classics as well as family favorites like Coco and Monsters, Inc. That all leads up to All Hallow's Eve's screenings of Hocus Pocus and Halloween.
For info and tix Rooftop Cinema Club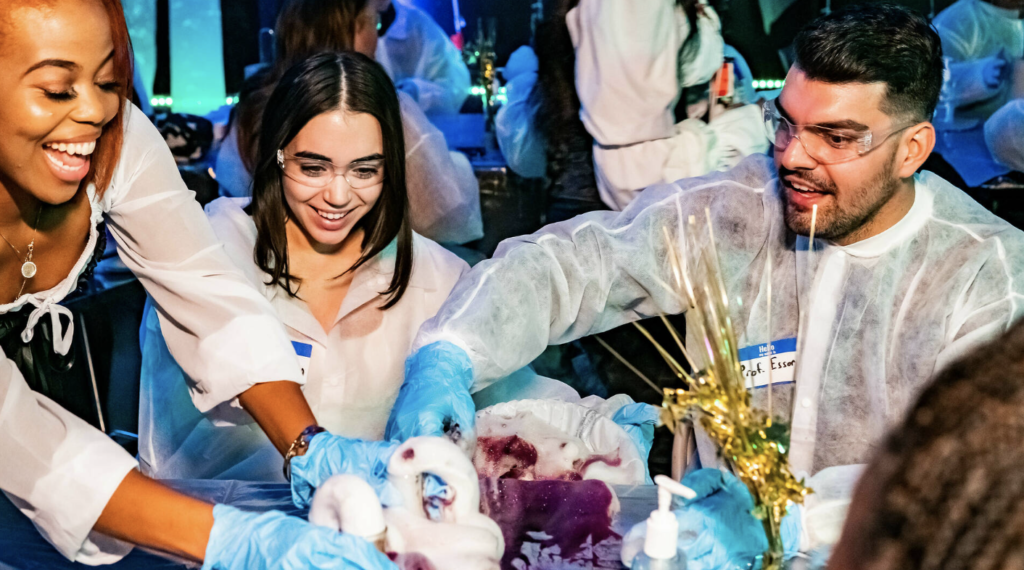 11. The Haunted Laboratory
Get in on the fun at The Drunken Laboratory, a bar in Brooklyn where you'll wear lab coats and goggles for a night of sipping drinks and doing science. 
The bar's Haunted Laboratory experience includes a ghostly drink menu, haunted decor and scare actors for a truly immersive experience
Tickets are on sale now starting at $45; the experience begins on September 22 in Bed-Stuy with dates running through the finale on Halloween night.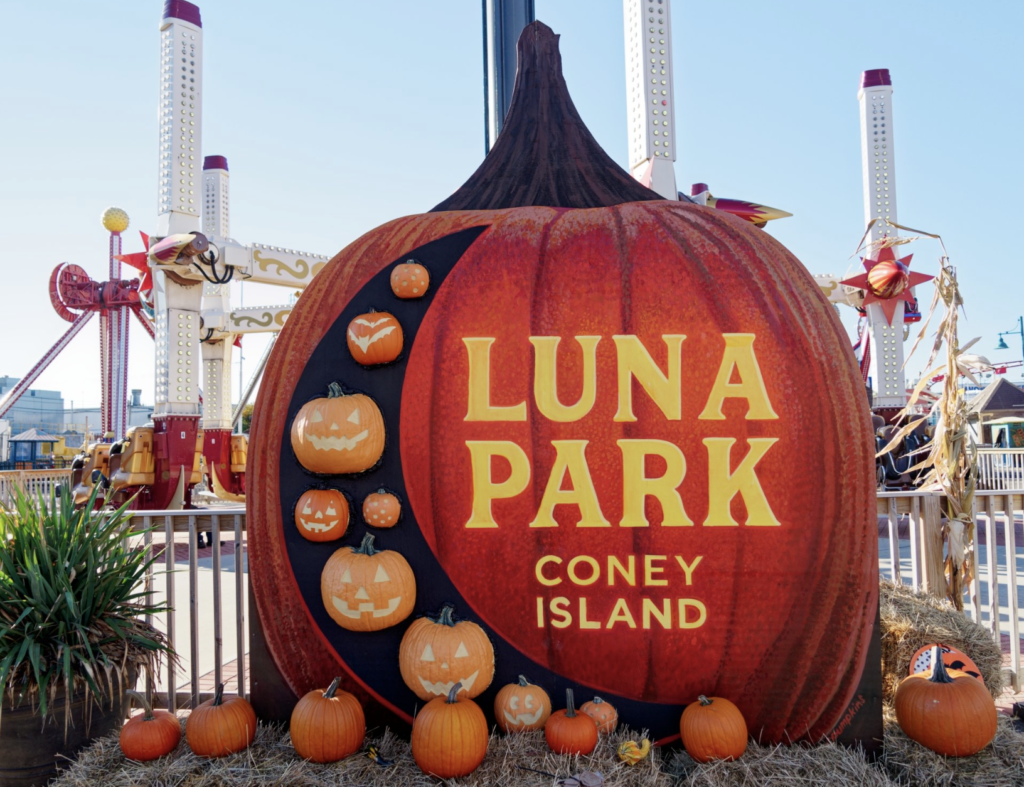 12. Halloween Harvest at Luna Park
Experience Fall & Halloween themed activities during our 10th annual Halloween Harvest!  Halloween Harvest activities are FREE with your Wristband purchase, on our website or at our ticket booths, for park visits from September 22 through October 29.
The fun doesn't stop there as we will be offering fall-flavored food items across popular dining options including Half Moon Food Court, Coney's Cones and Salt & Sizzle. For all pumpkin-spice lovers, guests can indulge in Pumpkin Spiced Funnel Cake, Pumpkin Spiced Gelato,  Purple & Orange Halloween-themed Cotton Candy and more!
Halloween Harvest activities are FREE with Wristband purchases* valid for visits from September 22 through October 29.
The park's Halloween celebrations kick off on September 22 and run through October 29 on weekday holidays, Fridays, Saturdays and Sundays in Coney Island.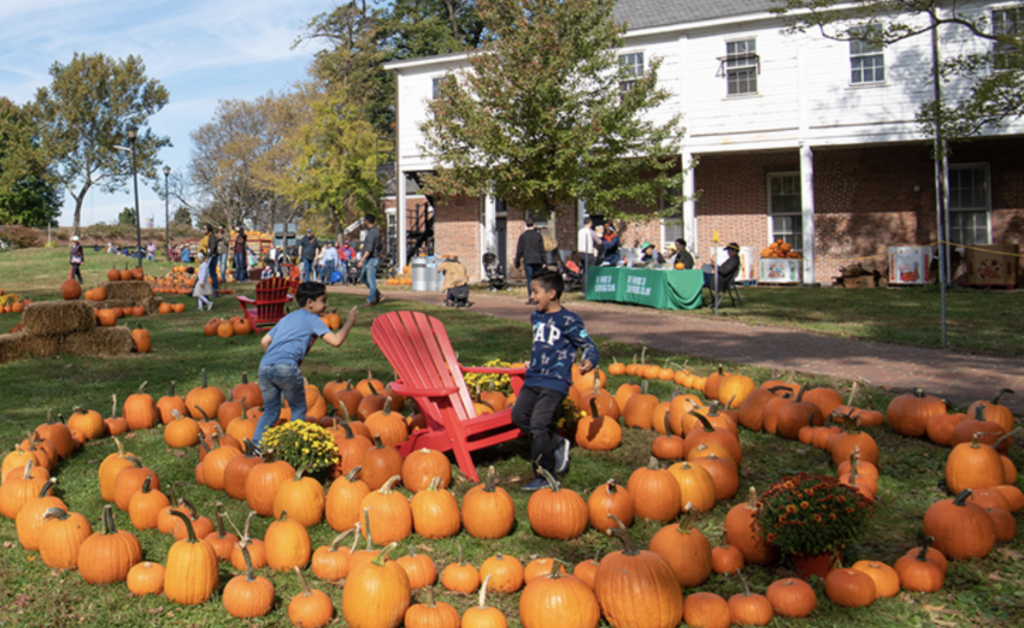 Pumpkin Point at Governors Island
Pump­kin Point, Gov­er­nors Island's annu­al free pump­kin patch and fall fes­ti­val, returns to Nolan Park for 2023! Vis­i­tors are invit­ed to pick out their own pump­kins (free with sug­gest­ed dona­tion) on the week­ends of Octo­ber 21 – 22 and Octo­ber 28 – 29, 2023, from 10am to 5pm. Come ear­ly in the day to make sure you have your pick of the pump­kin patch, and please lim­it pump­kins to one per per­son per household. 
Gov­er­nors Island food ven­dors will be on-site both week­ends with fall-themed food and drink avail­able for pur­chase, includ­ing Lit­tle Eva's, Gov­er­nors Beer Co., Brigs Sweet Shop, El Toro Rojo, Deploy Cof­fee, Rosie's Empanadas, and Fauzi­a's Heav­en­ly Delights. 
Pump­kin Point is rain or shine. Please be advised, a large num­ber of vis­i­tors is expect­ed for Pump­kin Point, so leave extra time to board and ride the fer­ry. 
Click here for fer­ry sched­ules and tick­ets. 
Pump­kins left over from Pump­kin Point will be com­post­ed on Gov­er­nors Island by Earth Mat­ter, which runs a Com­post Learn­ing Cen­ter at the Urban Farm on Gov­er­nors Island.
14. Historical Hallowe'en Party
Happy Hallowe'en New York City! Get dressed in your Halloween best and come join us for our annual evening of hands-on games, spooky and silly stories, historical Hallowe'en crafts, and buckets of candy!
Have you ever heard of mourning jewelry? It was quite fashionable during the Victorian era. These sentimental keepsakes helped keep the memory of beloved family and friends close and included some unusual design elements, like real human hair! Learn more about this unique tradition and make a piece of mourning jewelry (with fake hair!) to take home. 
Discover the many ways clothing and accessories were used to show remembrance! Historical interpreters will share the meaning of their outfits, from widow's caps and pins, to dress colors.
This is also the time of year Día de los Muertos (the Day of the Dead) is celebrated in Mexico and beyond by many families. Take part in this unique holiday by creating your own special offering to place on our communal ofrenda (altar). 
We'll be playing Hallowe'en bingo, reading jack-o'-lantern stories, crafting costume accessories, and more!
For even more Halloween fun, expect hands-on games, Hallowe'en bingo, spooky stories, historical Hallowe'en crafts and buckets of candy.
This all-ages celebration at the Upper West Side museum runs from 4-6pm on Halloween night, Tuesday, October 31. Costumes are encouraged.